Welcome to
RAISE ENGINEERING SERVICES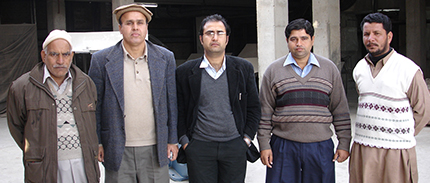 Authorized Dealer of SWF Germany

ABOUT US
RAISE Engineering is one of the most experienced and leading Crane designers, manufacturers, suppliers of various Lifting Equipments and materials handling solutions for use across multiple sectors in Pakistan.
OUR HISTORY
RAISE Engineering Services was established in 1978 deals in design, manufacturers and engineering consultants of all types of Over Head Travelling CRANES as one of the oldest & pioneer company in Pakistan. Since then RAISE Engineering has been at the forefront of Crane and lifting equipment design and engineering services for over 4 decades. In addition to Lifting Products; RAISE Engineering services has also successfully designed, manufactured and supplied several other engineering tasks, such as storage tanks, steel structures, general fabrication work, Jigs & Fixtures for Automotive Industries.
RAISE Engineering started initially design and consultancy services, started with under-hung cranes and in no time they established themselves as Pakistan's leading suppliers of lifting products as till today.
CRANE SUPPLIERS
Today RAISE manufacture everything from monorail cranes and lifting attachments to automated handling solutions for various needs supporting loads of anywhere from 250 kg to over 250 tones. We also provide delivery, installation and testing assistance for all of our products.
All our lifting solutions and working practices comply with FEM Rules & DIN Standards and Stress Group(s) B3 H4
All of our products are manufactured in line with quality management systems requirements such as ISO 9001:2008
A forward thinking crane company
We at RAISE Engineering Services are constantly refining our internal processes to ensure customer satisfaction, and despite being one of the leading crane manufacturers in Pakistan, this process of continual improvement isn't limited to production. We utilise the latest design technology to guarantee the accuracy of our plans and drawings and to provide a fast quotation to clients.
We also provide services for maintenance of Cranes or Repairs to ensure the ongoing safe use equipment whether it our product or from any other manufacturers. We provide refurbishment, repair and issuing spare parts services for all type of Cranes.
Flame & Spark Proof Cranes

Electric Monorail Hoisting System for Assembly plants, Steel Melting and Foundry shops

Pneumatic & Magnet Cranes

Lifting Beams & Lifting Platforms

Grab Bucket for Cement and for Iron/Steel Industries

Hand Operated Cranes and Trolleys

Electrical Control Panels, Power Supply Conductor system & Bus Bars